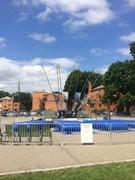 Euro Bungee/Extreme Air Jumper
$0.00
Dimensions: 50' x 50' x 25'
Set Up Area:
Outlets:
Call for pricing and availability.
This Extreme Air Jumper flings you 25ft in the air as you jump and flip on the Inflated Pads. The extreme air power jump, truly gives you the sensation of being weightless. It's 100% safe and 200% fun. Experience the adrenaline rush of a bungee jump, as you perform gravity-defying moves.