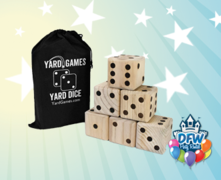 Giant Yard Dice
$25.00
Dimensions:
Set Up Area: 5 x 5
Outlets:
Take your favorite dice games outdoors
YardGames Giant Wooden Yard Dice set was created to bring extra fun to existing dice games. Take your favorite dice games like yardzee or yard farkle outdoors or play inside on the floor. This Giant Yard Dice set is perfect for capturing everyone's interest in classic dice or board games. Each die has smooth rounded edges for easy playability, kiln-dried wood for durability, and deep heat-branded pips for visibility. Everyone can play!
BOOK NOW and qualify for a 5% Discount when remaining balance is paid for in Cash on delivery.

Rental period can be between 1 hour and 8 hours long. Rental fee's increase accordingly for any additional time needed. If you need to keep the items later than 8 PM, please pick the following morning for your event end time.

** Includes delivery, setup and pickup. Most inflatables will come with a mat for the entrance. If you need a tarp, please make a note during check out.

Delivery charges may apply depending on distance from our warehouse in Frisco, TX. Any questions please call us at (888) 584-6424.

Discounts and coupons only apply to inflatables. Tables, chairs, concessions, supplies, or equipment are non-discountable items.