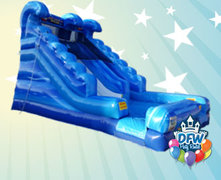 Lil' Wave & Splash Water Slide
$262.50
Dimensions: 13W x 16H x 23D
Set Up Area: 30x20
Outlets: 1
This is a front loading slide, which means the riders don't necessarily need to exit the slide after taking a ride down. They can just circle back up the stairs and slide back down.
After the water runs for a few minutes, a shallow pool fills up at the bottom of the slide ensuring a fun splash each time a rider comes racing down. The landing area is also surrounded by walls to keep the riders from exiting the slide for added safety.



BOOK NOW!

BOOK NOW and qualify for a 5% Discount when remaining balance is paid for in Cash on delivery.

Rental period can be between 1 hour and 8 hours long. Rental fee's increase accordingly for any additional time needed. If you need to keep the items later than 8 PM, please pick the following morning for your event end time.

Dimensions: 12'8"W x 22'8"L x 15'6"H

Weight Limit: 200 max per user

** Includes delivery, setup and pickup. Delivery charges may apply depending on distance from Frisco, TX.